VIDEO BELOW
Randy's Cowboys Blog
Michael Irvin champions equality
By Randy Maltz – Founder/Editor at Silver and Blue Report & Hook'em Report
Link Below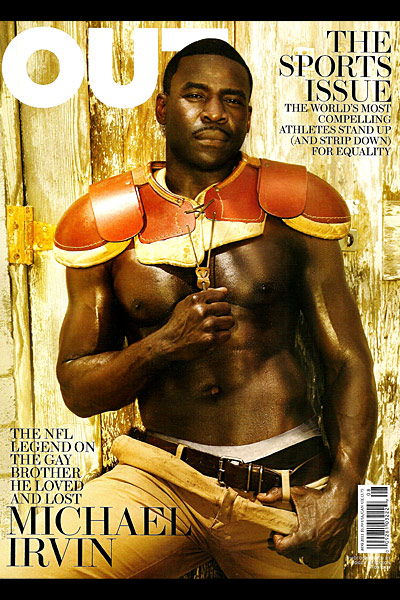 Courtesy of Out Magazine
Photographed by Roger Erickson | Styling by Constanze Han
NFL Hall of famer Michael Irvin talks for the first time about his gay brother and explains why he's on a pro-gay mission from God.
Hall-of-Famer Michael Irvin appears on the cover of Out Magazine in support of his late gay brother.  He tells the publication that he would support any athlete who comes out.
Irvin publicly acknowledges that the impetus for taking a stand comes from his relationship with his gay brother, Vaughn, who died of stomach cancer in 2006. Irvin had not spoken publicly about his brother previously, according to the magazine.
In the article, Irvin describes how his brother's sexual orientation contributed to his own issues.
"I'm not gay, but I was afraid to even let anyone have the thought. I can only imagine the agony—being a prisoner in your own mind — for someone who wants to come out. If I'm not gay and I am afraid to mention it, I can only imagine what an athlete must be going through if he is gay."
And yet, Irvin says, 15 years ago his champion team would have accepted a gay teammate on one condition: that the player could play. Winning was all that mattered.
"I believe, if a teammate had said he was gay, we would have integrated him and kept moving because of the closeness." As a leader in the locker room, it would have been Irvin's job to keep the team together, first and foremost. And if that job called for him to support a gay teammate and share his connection, he thinks he could have. "We had a bunch of different characters on that team. Deoin [Sanders] and Emmitt [Smith]. I believe that team would have handled it well."
http://www.out.com/slideshows/index.asp?slideshow_title=Michael-Irvin-The-Playmaker-Preaches&theID=1#Top