Dallas Cowboys and Jason Garrett Continue Their Helping of Humble Pie
By Rob Brown
Bleacher Report
http://bleacherreport.com/articles/622375-dallas-cowboys-and-jason-garret-continue-their-helping-of-humble-pie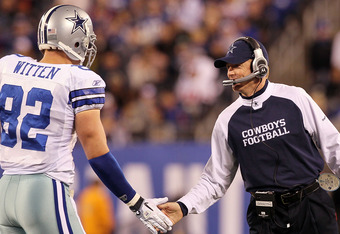 Jim McIsaac/Getty Images
Last year at this time, a cocky Dallas Cowboys franchise was a champagne bottle away from basically celebrating their Super Bowl win in Cowboys stadium.
Today, a humble team is shying away from making brash statements.
"I cannot do the same," Garrett told ESPNDallas.com. "We all want to compete and certainly participate and win a Super Bowl. We're going to be more focused on the process along the way."
That's definitely day-and-night from the approach that Wade Phillips and Jerry Jones have used in years past.
Following their 13-3 2007 season, the Cowboys were repeatedly heard mouthing off, "Super Bowl or bust". Veterans like Zach Thomas, Pacman Jones and Tank Johnson were shown in Rocky-like montages, working out, lifting weights and telling the HBO viewers how this was THEIR year!
Cowboy fans are still trying to forget how that year turned out. The 2008 season was an embarrassing one. It ended with a combination of the Baltimore Ravens winning the last game in the historic Texas Stadium, the Eagles closing the season with a 44-6 massacre and "America's Team" not making the playoffs with a 9-7 record.
I'm no genius, but I guess that's a bust by Wade Phillips' definition.
After winning their first playoff game in a decade in the 2009 postseason, Dallas thought it wasn't unreasonable to think that the Super Bowl XLV could be a home game for the Cowboys.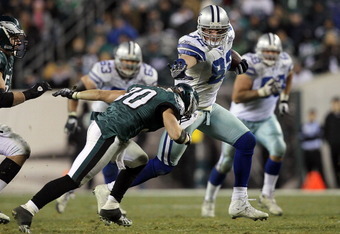 Jim McIsaac/Getty Images
Much like Charlie Brown's feelings when Lucy tells him that she'll hold the football; Charlie was filled with hope, but ultimately given grate disappointment.
The Cowboys finished 6-10, including a 7-45 beating at the hands of the Green Bay Packers, a game that looked just like the massacre the Eagles gave the 'Boys in 2008.
Humble pie isn't a new dessert to any team in the NFL; all teams have a slice sooner or later. But the Cowboys need to get full on the pie to prevent getting full of themselves. You can't have the Cowboys walking into the 2011 season like they have in the past, they've played much better when they have something to prove rather than when they need to live up to the hype that they've given themselves.
In 2009, the Cowboys had to prove that they could win a playoff game over a Philadelphia team that they had just played one week prior. The Cowboys accomplished that goal, and although they lost the next week in Minnesota, many considered it a step in the right direction.
Another offseason is upon us and the Cowboys seemingly aren't screaming from the mountain tops that their the best thing since slice bread. Fans should be happy about this, and the players should continue to work towards the goal of winning the Super Bowl, but as cliche' as it is; they need to take it "one game at a time".