2011 Dallas Cowboys: Will They Benefit From a Players Lockout?
By Jason Henry
Bleacher Report
http://bleacherreport.com/articles/634831-2011-cowboys-will-dallas-benefit-from-players-lockout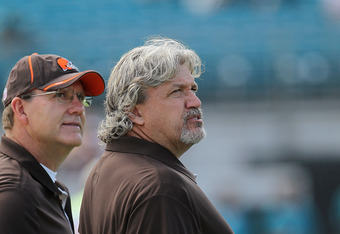 Mike Ehrmann/Getty Images
Rob Ryan and his wild and exotic schemes for the Dallas Cowboys defense will have to wait a while as NFL players have been locked out by NFL owners. In a quote to the Dallas Morning News football blog, Cowboys linebacker Sean Lee said that many players met at Valley Ranch in February with new defensive coordinator Rob Ryan to learn as much as possible about his new scheme and how they will fit in.
"They were making sure they had all the information they could get to take with them into the offseason. I thought we did a really good job preparing for this. I don't think we're going to lose a step because of that," said Lee to the Dallas Morning News.
But is Lee on the right track in thinking that Dallas, in his words, won't lose a step?
At this point it is a little hard to say because it is so early in the lockout process. If the lockout lasts well into the summer and cuts into training camp then I believe all teams will lose more than a few steps. But if the lockout lasts only a few weeks like many are hoping, then Dallas should be in good shape heading into the 2011 season.
However, with so many uncertainties about the Cowboys' defense regardless of the lockout, will the length of time off cause any damage not already done by having to learn a new defensive system?
Let's examine the transition from the Bill Parcells era to Wade Phillips from 2006 to 2007. In Parcell's last year as head man in Dallas, the Cowboys ranked 20th in points and 13th in yards defensively.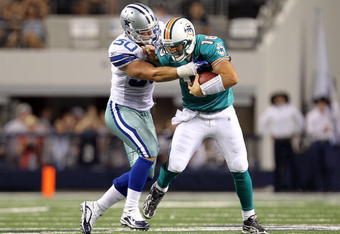 Ronald Martinez/Getty Images
Jump to 2007 and Dallas goes from 13th to ninth in yards and from 20th to 13th in points. That's a huge jump from one year to the next, but was that due to a new scheme or the Cowboys players responding better to a new head coach?
Remember, the Cowboys record also improved by four games from Parcells last year to Phillips first year in Dallas.
While Dallas won't technically have a new head coach in 2011, they will have a new man to respond to defensively in Ryan.
The draft next month in April may have a small impact on how the Cowboys perform in 2011 as well. New rookies will have an even smaller window to learn Ryan's new playbook, which may also put the Cowboys a step behind.
But with Ryan's new scheme and the Cowboys potentially adding new players to their roster, I think the expectations will remain high no matter if the lockout ends tonight or in the next few months.
Whether the Cowboys defense looks a step ahead or a step behind in 2011, Jason Garrett and Rob Ryan better make sure they don't lose to much footing or they may find themselves looking for new footing in 2012.