Dallas Cowboys: What We Can Expect From Tony Romo in 2011
By Davis Miller
Bleacher Report
http://bleacherreport.com/articles/587530-dallas-cowboys-what-we-can-expect-from-tony-romo-in-2011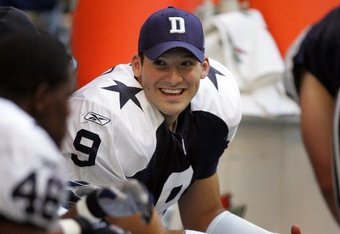 While most of the country's football followers are awaiting the Super Bowl with great anticipation, there's a palpable sense of anxiety hanging over the heads of Dallas Cowboys fans.
How will it feel to watch two other teams play for the championship in our stadium, while we sit by idly watching? How will the Boys bounce back this fall from one of the most underachieving seasons in franchise history?
Part of the anxiety associated with that last question has been put to rest with the head coach swap of Wade Phillips for Jason Garrett.
You could see a tangible difference in the energy with which the team played following Phillips' termination, and it seems that Dallas fans rest easy knowing Garrett is wearing the headphones permanently.
But the other part of that question—how will the Cowboys perform in 2011?—rests on the shoulders of the quarterback. After Tony Romo's collarbone was shattered by the Giants, fans watched senior citizen Jon Kitna provide a few sparks in the offense over the course of several games, followed by a very average two-game performance by second year backup Stephen McGee to round out the forgettable season.
[As a side-note, I've heard several Cowboys fans claim that Kitna performed "better" than Romo, and that Tony's injury was fortuitous. False. Forget that Romo had a higher quarterback rating than Kitna during their tenures as the starter (94.9 > 88.9), and a better touchdown-to-interception ratio (11:7) than Kitna (16:12). Romo's elusiveness and ability to extend plays is superior to Kitna's, and that difference alone alters defensive coordinators' game plans.]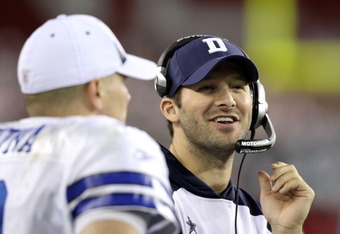 Christian Petersen/Getty Images
Now let's be clear: The passing game cannot be held responsible for the Cowboys' failure in 2010.
However, the ability of the offense to run effectively, to control the ball, to give the defense rest (and leads to defend), relies heavily on the effectiveness of the quarterback, as is the case for every team in the NFL.
So, yes, even though Dallas quarterbacks played satisfactorily last season, the Cowboys' success this year depends largely on QB performance.
So my initial question—how will the Cowboys perform in 2011?—depends on this one: What can we expect from Tony Romo in 2011, his sixth year as the Dallas starter?
We know Tony was engaged to smoke-show Candice Crawford back in December, although the couple has not yet announced a wedding date. My first reaction? This will be another beautiful blonde distraction.
But then I thought about it some more (and listened to my wife's words of wisdom), and changed my mind. Doesn't it make sense to expect all of the social commotion in Tony Romo's life to dissipate, now that he's "tied down?"
Remember Terrell Owens' "that's my quarterback" sulk-fest? That was in reference to suppositions that Tony's trip to Cabo with his girlfriend destroyed his playoff concentration.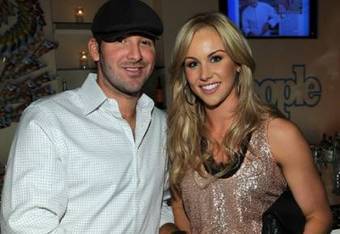 Personally, I'd take Crawford over Jessica Simpson, too.
I expect him to be more level-headed and more focused on football this season than ever.  Especially if the wedding and honeymoon don't coincide with the Cowboys schedule. Speaking of "more focused on football," let's move onto actual football-related topics.
Romo has been known to choke and throw dumb picks. I'll concede that. But so has Brett Favre his entire career. So has Peyton Manning, frequently this past season. So has Tom Brady, in his last three playoff appearances.
Failure happens when you take risks. And sure, all of those guys have had better careers than Tony Romo, but he's also not as bad as the haters think he is. Look at his career passer rating. It's fair to talk about him in the same breath as these other guys.
Regarding the injury, it's been three months since Tony Romo broke his collarbone, and by the time summer camp rolls around, it will have been nine months. According to WebMD, standard recovery time for clavicle fractures is eight to10 weeks, so he should have been fully healed since the New Year.
If he's as competitive as I think he is, Tony Romo has spent the past months doing two things: watching film and getting angry. Angry that his team stunk even before he went down and that he didn't get a chance to turn things back up. Angry that two other guys led his team for the last 10 weeks of the season. Angry that Dallas missed the playoffs and he has to wait another year to try for that elusive championship. And as far as studying film goes, that can't hurt either.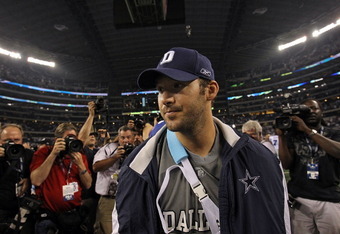 Ronald Martinez/Getty Images
In 2009, Brady came back from a year cut short by injury to turn in passing yard and touchdown totals that exceeded his career season averages, and a quarterback rating higher than his career mark.
Is Tony Romo Tom Brady? Of course not. But both are competitive players and both have been effective passers for their careers. I suspect that Romo also has a stronger-than-average year coming off of injury.
As a starter in the NFL, Romo has never had a quarterback rating below 91 for a season. His career rating of 95.5 ranks fourth all-time. Give him the same line he had last year, the same three running backs, the same wide receivers—except the most gifted one, Dez Bryant, has almost a year's experience under his belt—and give him a better coach, and I see no reason to expect that Romo's passing efficiency will diminish.
Let's assume, based on empirical evidence, that Romo's passer rating this year stays in the 90s or higher. We'll call that a constant. If we factor in enhancements to the team—Bryant's emergence, the coaching change, and whatever Dallas does in the draft—and then throw in almost a year's worth of competitive fire swelling inside him, I think it's reasonable to expect him to come out blazing in 2011.
The Cowboys have provided Tony Romo with all of the tools to succeed on offense, and I predict we'll see his competitive side materialize this fall.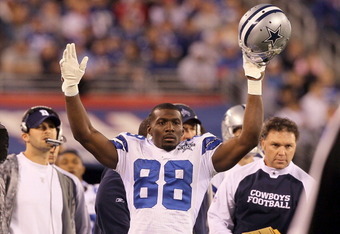 Dez Bryant has a bright future ahead of him.
Jim McIsaac/Getty Images
A more mature Romo will finally reach that mental state where he, as the team leader, will do whatever it takes to win. Expect fewer late game mistakes and choke artistry. Expect more third-and-long conversions and comeback victories.
Will Tony Romo's advancement result in a Cowboys championship in 2011? There are so many other factors in play—defense, special teams and a little bit of luck—that it's difficult to determine.
It's his sixth year as the starter. Favre won his only championship in his fifth year as starter, Manning in his ninth and Brees in his ninth. What does that mean? It means that frequently coming up short doesn't always go on forever.
Romo is ready. If Dallas doesn't win the Super Bowl in the 2011-2012 season, it won't be because of Tony Romo. But as the team leader, if he's as competitive now as I think he is, you won't hear him share that burden of responsibility with anyone.
And that's the attitude that has me excited about the 2011 Dallas Cowboys.