Dallas Cowboys To Compete for Jim Harbaugh as Head Coach vs Denver Broncos?
By Freddy Blair
Bleacher Report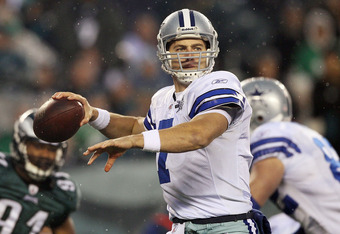 While the Cowboys finish their dismal season in Philadelphia, does Jerry have bigger plans?
Jim McIsaac/Getty Images
Earlier today a rumor spread like wildfire across the Internet and even the NFL Network that the Cowboys had already decided to make Jason Garrett their head coach in 2011.
Speaking with Tony Siragusa before today's broadcast of the Cowboys-Eagles game, Jerry Jones denied the rumor, and stated that he would begin the interview shortly after today's game, but that nothing was decided yet.
Jones did say that he intended to move quickly in naming a head coach, leading some to believe that one will be named by the end of this week.
However, another rumor is beginning to surface that the Cowboys are actually interested in Jim Harbaugh as their next head coach, and will compete with the Denver Broncos in an attempt to bring Harbaugh to Dallas.
Please bear in mind that this is only a rumor, and the reality of the situation is that there are those out there with favorites in mind for each team's head coaching vacancy. Therefore these rumors can spread just as easily as the one that was created earlier today—much like one a short time ago that had Tony Romo set to be married after a girl he was dating was spotted with a ring on her finger.
Harbaugh's history of coaching is an impressive one, beginning his coaching career in 1994 while still playing in the NFL as a volunteer assistant coach at Western Kentucky University with his dad, Jack Harbaugh.
Harbaugh has quickly become a wanted man.
Ezra Shaw/Getty Images
Harbaugh took over as head coach for the University of San Diego in 2004, and in 2005 and 2006 led them to the Pioneer League Football Championship.
Most recently, Harbaugh took over as head coach of the Stanford Cardinal and rebuilt that program in four years. The Cardinal this year finished with an 11-1 record, and will play Virginia Tech on Monday night in the Orange Bowl.
With John Elway nearing an agreement with the Denver Broncos to become the Chief Executive of Football Operations, it was expected that Elway, who is also a Stanford Alumni, would approach Harbaugh about becoming the next head coach of the Broncos.
The San Francisco 49ers are also reported to have reached out to Harbaugh, hoping to land him as a head coach.
Rumors still abound that Jeff Fisher will be Dallas' next head coach if he becomes available after Sunday's season ending game versus the Colts, but Bud Adams holds the cards in that situation due to having Fisher under contract for one more season.
Adams would likely ask for something in return, and could hold off on firing Fisher until other coaching vacancies have been filled in order to negotiate a return on Fisher's last year under contract with the Titans.