Cowboys' reality check starts to set in
With five weeks left in Dallas' season, we examine five areas of lingering concern
By Calvin Watkins
ESPNDallas.com
The Dallas Cowboys enter the last five weeks of their season trying to determine some answers to questions that developed during 2010. We look at five key areas for the team as Sunday's visit to the Indianapolis Colts approaches.
Safety
The safety play of Gerald Sensabaugh and Alan Ball has been inconsistent. There was weak play early in the season, but the duo has performed better in the past three weeks. Zone coverage and a better understanding of playing free safety have helped Ball. He went eight weeks without a pass breakup but has two in the past three weeks, which also includes an interception.
Sensabaugh has improved his play of late, especially near the line of scrimmage by increasing his tackle numbers. He's been involved in 18 tackles in the past three games and has three pass breakups.
The future for both players is in doubt because each is an unrestricted free agent following the season. Sensabaugh was hopeful he would get a contract extension at the start of the season, but that remains up in the air.
"Yeah, I want to come back," Sensabaugh said. "It is a business. Nothing has been done yet and I'm preparing as if I'm headed to free agency. I'd rather stay."
Factoring into the Cowboys' decision are the futures of rookie safeties Barry Church and Danny McCray.
Offensive line
Doug Free was the biggest question mark coming into the season, but he's been a solid performer at left tackle. One scout said Free has been one of the top three players on the team during 2010.
[+] Enlarge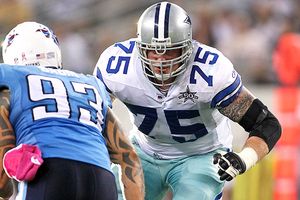 Matthew Emmons/US Presswire
Marc Colombo's knee injuries raise concerns about the offensive lineman's long-term status with the Cowboys.
Injuries to left guard Kyle Kosier and right tackle Marc Colombo raise concerns about their long-term status with the team. Kosier is in the final year of his contract and he would like to stay.
"I'm playing this season out and thinking about the Indianapolis Colts," he said.
The team could go younger at this position in the draft or use Montrae Holland as a stopgap for the 2011 season. Colombo has battled knee issues this year. He missed three preseason games and the regular-season opener because of minor surgery, and you have to wonder if the Cowboys still want him for 2011.
Sam Young, who showed tremendous improvement during training camp, is a possibility at right tackle next year. Andre Gurode, the center, and Leonard Davis, the right guard, have struggled at times, but each player is under contract for a few more years. Both players have been inconsistent. Davis was benched early in the year but has played better since the benching.
Several people in the organization believe Williams has performed well this season. Williams said he's been the most consistent wideout on the team and points to film of his play as evidence. Williams had 18 catches for 278 yards with three touchdowns the first four weeks of the year. But he has only two touchdown receptions and 14 catches in the past seven weeks.
"If you cut the tape on, I'm there," Williams said. "You cut the tape on No. 11, [he] is there on the film being consistent from Week 1 to [now]. You can take it all the way back to training camp if you want to."
He hasn't been a part of the game plan on a consistent basis, and defenses have targeted him on some games and limited his numbers. The Cowboys owe Williams $5.1 million for next year, and it seems the team might move on without him. He wants to stay, but Dez Bryant's development makes it hard for that to happen. It's expected that Kevin Ogletree, who has played a handful of games this year, will also get more snaps on offense in 2011. These things could force the Cowboys to let Williams go in the spring.
Defensive ends
The Cowboys have three defensive ends who become unrestricted free agents next year. Starter Marcus Spears and backups Stephen Bowen and Jason Hatcher all get to test the market. Spears was irked that the team placed a first-round tender on him that made his financial package smaller than his backups'. He wanted a long-term deal and understands the business side of the NFL.
Yet Spears, who wants to continue his career with the Cowboys, might need to test the market. Spears' left calf strain gave Bowen a chance to start. In Spears' absence, Bowen has compiled six tackles, one sack and three quarterback pressures as a starter. Hatcher, who missed three games with a groin injury, has played well this season. The team likes both players but can't keep everyone.
"It's not about the future because I can't control that," Hatcher said. "I understand the business; I signed up for it. It is a business, you can only control what you can control. I'd love to stay here; they understand I got older kids, but I let them know Daddy plays football and in this business you might go state-to-state."
Jason Garrett
Jerry Jones admitted he was in denial about his football team. Once he looked at the reality of his group, he fired head coach Wade Phillips and promoted Jason Garrett.
Jones can't hire Garrett long-term until he goes through the interview process. But Garrett hasn't hurt his cause. He won his first game as interim coach, at the New York Giants, and then beat the Detroit Lions, who were missing starting quarterback Matthew Stafford and using a rotation at running back.
The Cowboys just weren't better than the New Orleans Saints on Thanksgiving Day, but it seems Dallas has a chance to beat a hurting Colts team Sunday.
"It would be shocking to me if he didn't continue to do a great job," Jones said of Garrett on KRLD-FM this week. "I know how hard he's working; that's never been a issue of how hard he's working, but again I'm not hanging on so much what we did or didn't do, relative to the score. We would all agree the team gave the kind of effort against the Saints that gave him a plus."
How the Cowboys finish will play a major role in whether Jones gives Garrett serious consideration for the job. The Cowboys have not given up on Tony Romo's return, and if the team finishes 8-8, after a 1-7 start, Garrett's promotion is considered a success. The possibility of playing younger players over veterans has been ruled out — another indication he's trying to obtain victories to improve his cause to get the job.
"It's not about five games," Garrett said. "It's about committing to the work today and having a great day."