Dallas Cowboys Now 1-5: Time To Fire Wade Phillips
By M.J. Overstreet – Bleacher Report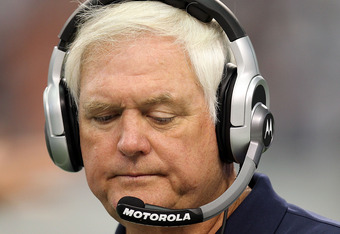 Yes, Tony Romo went down with a broken collarbone against the Giants, but that doesn't excuse the terrible performance by Wade Phillips's defense.  Each one of them was an embarrassment.
They just proved that they lack mental toughness.  When Romo went down, the defense should have had the intestinal fortitude to step up.  But they don't play hard for Phillips.  Their mettle was tested and they failed.
Adversity forces a team to show what it's made of, and Phillips's defense laid a big fat egg, accentuating the fact that Phillips is entirely too soft on his players.
And as a head coach, he should have had the backup quarterback better prepared than Kitna was.  Great coaches prepare for the unthinkable.  That's what makes them great.
Back when Drew Bledsoe went down for the Patriots in 2001, Bill Belichick had an unknown Tom Brady well prepared to step in.  Brady led the team to a Super Bowl win that season.
The Pittsburgh Steelers proved what it's like to have a tough as nails defense.  When their quarterback went down, the D rallied, and responded to their tough coach, Mike Tomlin.
It's obvious that Phillips never thought in his wildest dreams that Romo would ever go down with an injury.  That's because he's not proactive.  And to win in the NFL, one has to prepare for the worst.
Ronald Martinez/Getty Images
I'm not saying Dallas should have beaten the Giants without Romo—the offense was expected to struggle—but Philips's defense should have stepped way up in the quarterback's absence.
Jerry Jones should fire Wade Phillips now and give Jason Garrett an opportunity to take the reigns for the remainder of the season.
Not because Phillips doesn't know football, because he certainly does, but because the team is no longer responding to him.
Yes, Cowboy fans feel that Garrett is even more of a problem than Phillips, but it's the only way to find out if Garrett can be a head coach, and things can't get any worse.
Being a good or mediocre offensive coordinator doesn't necessarily translate to being a good or bad head coach.  He may be effective as a head man.
If Garrett fails to turn them around, you bring in Jon Gruden at the end of the season.  But if Garrett miraculously finds magic in a bottle, and proves that all he ever needed was the chance to be in charge, then great!
Maybe Garrett will be a force as the general.  I seriously doubt it.  But perhaps he'll instill the discipline and no excuses attitude that the team needs.  And again, if not, you move on at the end of the season, and you kill two birds with one stone by letting Garrett prove to Jerry that he can't be a head coach.
NFL Photos/Getty Images
Otherwise, Jerry may hire Garrett as head coach at the beginning of next season, and if he then proves that he can't coach, Cowboy fans will have to suffer with him for another two years.
I doubt Garrett could turn it around this year, but I hope he could, and there is absolutely no reason not to make the change right now and give it a shot for the remaining 10 games.  The team has to have a new voice in the leadership position, and Jerry can't hire Gruden or any other available coach in the middle of the season.
The 'Boys have nothing to lose by giving Garrett a shot.  What's the worst that can happen—losing five of their next six?
Wait…they've already shown that they can lose five of their first six under Phillips.