Dallas Cowboys 2-0? They Certainly Are If You Look at It This Way
By Troy Alessi
(Contributor) on September 19, 2010 (Bleacher Report)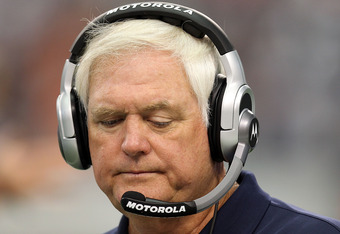 Cowboys Now Feeling the Sting of Two Awkward Tumbles to a Loss
Ronald Martinez/Getty Images
Let's admit it. The Cowboys have now beaten themselves two weeks in a row.
And quite frankly, it has been excruciating to watch. I can only imagine what it is like to actually be a part of the team at this moment. As a fan, I am angry, frustrated, and most of all, confused.
There is a clear difference between being beaten by a legitimate opponent, and losing to lesser talent because of a refusal to maintain discipline, focus, and/or adapt.
With the talent the Cowboys have on their roster, they should be the constant scoring threat that teams like the Saints and Packers are.
Its clearly there: I would take Romo, Barber, Jones, Choice, Witten, Bennett, Austin, Bryant, and Williams, as a group over any other team in the league as far as skill positions go.
I'm sure that most of you would agree with that. And for the most part, those skill players have played moderately well during the first two games.
The problem lies in the offensive scheme and play-calling. Yes, Jason Garrett is the one to fault. It is his job to call plays that put players in positions to make plays; plain and simple.
The fundamental dilemma in Garrett's offensive scheme stems from calling plays based upon what the defense gives you.
This requires the skill players to all be on the same page and make correct 'reads.' But as you and I know, two people can tell the same story, but see two completely different things (i.e. Romo to Williams).
The second problem with the offensive scheme is that it is not new, or 'revamped.' It has become predictable to the extent that even I can predict (i.e. inside/outside hand-off, quick/standard/play-action pass) the play-calls, about 80 percent of the time, from my living room.
And I am no one special: my only credibility comes from playing wide-receiver on back-to-back championship high school football teams. So, I know what it takes to win.
And, honestly, I believe that is the third problem with the offense: they do not know how to win. They think they can win, as opposed to knowing that they can win. It's like they play expecting the worst. And most of the time, that's what happens.
If you want to be the scoring threats that the Packers and Saints are, you have to be fearless and confident. Easy as that.
They run plays that stretch and overload the field, forcing defenses 'react' rather than 'anticipate.' But in order to do that, the quarterback obviously has to have time to take a five- and seven-step drops; which ultimately comes down to protection.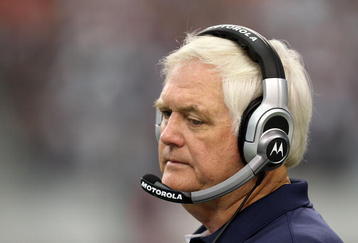 Ronald Martinez/Getty Images
But the O-line is certainly a different story. And for the sake of keeping you from becoming exhausted by this article, I won't go off on that tirade.
But all I will say is that the 'Boys give up on the run too quickly, keeping the mindset of the linemen in 'protection,' rather than 'mauling' mode; which in turn; hurts the entire attitude of the team.
From my perspective, the tone I get from the 'Boys, is they're playing scared, and afraid to make a mistake; which, by default is happening.
And if your scared; you certainly are not focused, fully disciplined, or willing to try anything that might put you in a vulnerable position.
Indicated by the past few Super Bowl winners, loose and liberal teams win; conservative and counter-punching teams get smoked.
When Wade and the defense said they were concentrating on creating more turnovers for this year, it seems pretty hypocritical for him to say 'we scheme not to give up the big play.'
It was quite obvious during this Chicago game that the Cowboys are very bland in the secondary, and they do all their scheming up front.
The defense believes that, 'if the opposing teams offense is going to have a 13- to 15-play drive, the chances of getting a takeaway is much greater.' Of course that's true: it's simple mathematical probability.
That's not a smart style of play, nor is it creative enough to be unpredictable. Which leaves you open to being beaten by easy schemes.
There is a reason why Darren Sharper and Charles Woodson had so many interceptions last year: they took risks that paid off. That style of play is something the Cowboys are apparently uncomfortable with and unwilling to implement.
What a shame.
There is still hope, however. The Cowboys talent is so good, that no matter the scheme, they will always be able to contend.
Let's just hope that when 'something' gives, it's loose and liberal.